At Hartwell Dentistry this week, we will be discussing how you floss your teeth and other methods of cleaning between your teeth. There has been some recent articles regarding flossing and it's pros and cons. Here at Hartwell dentistry we believe cleaning in between your teeth is a vital step in having great oral hygiene. Flossing is but one method.
CLEANING BETWEEN THE TEETH IS IMPORTANT FOR ORAL HEALTH AND OVERALL WELL BEING
What are the benefits of cleaning between my teeth?
Cleaning between your teeth daily has great impact on the health of your mouth as well as your whole body. Gum and bone disease has been proven to have links with other health conditions such as diabetes, heart disease, stroke, dementia and lung disease. The key factor with these links is gum infection and gum inflammation.
REMEMBER: HEALTHY GUMS SHOULD NOT BLEED; IF THEY DO THEN YOU HAVE INFECTION AND INFLAMMATION OCCURRING.
BELOW IS A LIST OF EFFECTIVE TECHNIQUES TO PREVENT GUM INFLAMMATION AND BLEEDING
INTERDENTAL BRUSHES (PIKSTERS)
These aids have only come onto the scene of late. Studies have shown that they are MORE effective than floss in removing food and bacteria in between the teeth. Leaving these irritants between the teeth any longer than 24 hours allows for the initial process of  irritation and inflammation of the gums (gum disease) as well as an opportunity for the decay process to begin.
These brushes are ideal for patients with a history of gum disease, which has resulted in loss of bone and gum around the teeth. As well as anyone with spaces or gaps between teeth, which collect food.
Conveniently, these brushes are easier to use than floss, but like anything take a little time to get the technique right.
WATER PIKS OR WATER JETS:
This type of apparatus is extremely effective in removing debris from in between the teeth and are very popular in the Northern Hemisphere. They work by spraying water from a tip placed in between the teeth, essentially hosing out anything there. It can be messy and takes time to master but the effectiveness has been demonstrated in numerous articles.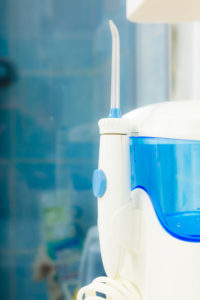 FLOSSING:
Using floss between the teeth helps with the removal of dental plaque, bacteria and trapped food. Although better than nothing, floss is not as effective as the interdental brushes in removing food and bacteria [plaque]. Floss is best where teeth are close together or for low risk gum disease patients.
Flossing is not the easiest task. Our hygienist can assist you with techniques, what type of floss to use and flossing aids to make flossing an easier task.
Here a few tips to make flossing easier for you:
Take about 30cms [a rulers length] of floss and wind the ends around the middle or index fingers
Grip the floss firmly with the index finger & thumb
Guide the floss between the teeth using a gentle sawing motion.
Gently scrape each tooth using an up and down motion but be careful not to snap the floss onto the gums.
So if you want to improve your general health as well as your oral health, begin cleaning between your teeth every day.
Our Dentists and Hygienist at Hartwell Dentistry can assist you in different methods of cleaning in between your teeth. Remember, brushing your teeth is only doing half the job, to clean your teeth thoroughly, flossing and interdental brushes are just as important.