Looking for a dentist in Camberwell?
Hartwell Dentistry has earned a reputation for dedication to the highest levels of skills, service & gentle dental care.
BOOK AN APPOINTMENT
HOW TO CHOOSE A DENTIST?
When is comes to choosing a dental practice, there is certainly many to pick from.
Like Hartwell, some are privately owned, whereas others are run by a corporate structure.
Some have committed to a lifetime investing in ongoing training and education, other practices do not feel this is a priority.
Some ensure that they study, follow and apply evidence based research, others fail to make the effort to incorporate this into their practice.
Some have actively sought out new technologies and innovation to improve the quality of care to their patients, others seem happy sticking with the status quo.
So, why choose HARTWELL DENTISTRY for all your dental health needs?
If you want a dentist that will always put your agenda ahead of our own, then we invite you to become our patient.
If you want a dentist who will assess your dental health comprehensively, take the time to know you and your health and to ensure you have the information to make the most informed decision, we are the practice for you.
If you want a dentist who will thoughtfully offer you an array of sound options for you to consider, we are the practice for you.
If you want a dentist to respect your choice no matter what the reasons are, we are the practice for you.
If you want a dentist who carefully and intentionally assembles a team of support staff to ensure that all your visits are comfortable and treated with the utmost respect, we are the practice for you.
If you want a dentist who values your time as much as our own, we are the practice for you.
If you want a dentist who insists on putting your best interests ahead of your dental insurance's bottom line, we are the practice for you.
If you want to know why your teeth keep getting cavities, are wearing away or breaking down and you want a lifelong solution to minimise further damage to your teeth, we are the practice for you.
If you want to know why your gums are bleeding, why the bone around your teeth is disappearing and you would like a lifelong solution to minimise further damage to the supporting structures of your teeth, we are the practice for you.
We want to work with you, to collaborate with you, to provide you with our best individualised dental care that addresses your lifestyle and financial issues.
We want to be your dentist!
Quality dental care at Hartwell Dentistry in Camberwell
Drs Fleming and Horng actively seek out new, yet well-tested, technology and innovations that improve quality of care. They also seeks out the latest medical science for helping their patients support optimal systemic health through improved oral health. Remarkably, Drs Fleming and Horng don't just learn about the latest scientific evidence; they actually incorporate the latest scientific evidence into their practice.
Do you have a question about your smile, crowns or bridges, ask Dr Matthew. Are you wanting to know more about gum graft, implants or children's dentistry, ask Dr Dana.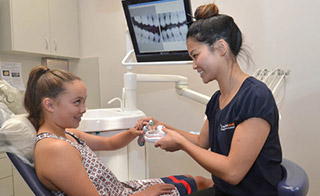 Our dedicated oral health coordinator and Oral Health Department gives you continual care and education to minimise serious problems.
Did you know that scientific research has concluded that even low-grade infection in your mouth elevates inflammation in the mouth and impacts on your body's systems?
Our Patient Coordinator aims to provide you with personalised, comfortable and gentle dental care. Call for help with appointments and queries.
Would you like a visually appealing and fantastic smile? You can enjoy the convenience of Home Tray Vital Whitening.
Same day tooth restorations with CEREC – CAD-CAM. Imagine having your tooth restored all in one visit using this precise technology.
HOW YOU WILL FEEL
Gentle dental care
A skilled team, continuing education and technological innovations at Hartwell Dentistry come together to ensure that you experience gentle dental care. Learn how we give you Gentle Dental Care
You have a dedicated Patient Coordinator
We aim to make your visit run smoothly because our Patient Coordinator will see to it! She is your designated point of contact should you need anything, from a cup of coffee to answering your questions about your individual treatment plan.
We specialise in smile dental (cosmetic dentist services) including teeth whitening, tooth restorations, veneers, dental crowns, bridges and oral health with excellent dental clinic facilities in Camberwell, ensuring your complete comfort.
Concerned about parking at your dentist in Camberwell? For your comfort, at Hartwell Dentistry we have 5 car parks and 1 disabled car park with full disabled access.
Hartwell Dentistry is conveniently located in Camberwell, close to Camberwell Junction. We are within easy reach of Hawthorn and Burwood, making a dentist in Camberwell a good choice.
Visit our Dentist Camberwell BLOG to keep up to date with the latest news from our practice and the dental industry, and answers questions.